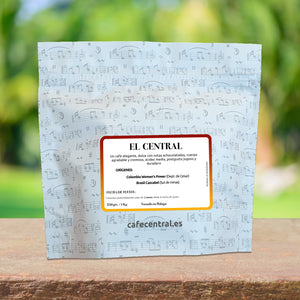 BLEND CENTRAL COFFEE
SENSORY PROFILE

A brilliant coffee blending from Colombia and Brazil; intense, with fruity notes (raisins, orange ...), sweets (cane sugar) and chocolate (cocoa, milk chocolate). A long and pleasant aftertaste. It is ideal for espresso, Italian coffee maker or mocha.
ABOUT...
This blend is the blend that we use at Café Central to prepare our own espresso. We have created it for the most demanding client looking for greater nuances and complexity in the cup. Its two origins are carefully chosen and mixed to give us an elegant , intense cup with a pleasant body and leaving us with a juicy and fruity aftertaste .
To highlight the characteristics of this coffee, we roast each origin separately, respecting the precise roasting profile for each origin. In this way, the characteristics of each origin are developed to the maximum and allows us to create an ideal blend for espresso, which combines very well with milk drinks. As we are proud of the blend we have obtained, we have named it our centennial cafeteria: BLEND CAFÉ CENTRAL .