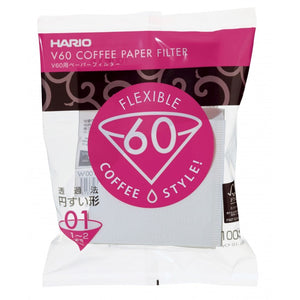 FILTER V60 01 WHITE BAG 100UDS
Characteristics   Hario V01 filters:
- 100 units
- Made on paper
- Size 01
- Conical shape
The Hario filter   for the V60 it is a top quality filter made exclusively in the Netherlands by this well-known brand in the barista world. Filters are essential if you want to brew coffee with these popular V60 drip cones.
Like everything that this Japanese brand does, it is made with the best materials to ensure the best filtration when it comes to coffee extraction, and thus you obtain and can enjoy the best coffee avoiding all kinds of those unpleasant deposits and sediments.
Its design , conical in shape and finished in a point, makes the coffee fall from this point more effectively into the container in which we want the resulting mixture to be deposited.
Its size is 01 , so you can get between one and four cups of coffee (depending on the amount poured into each of these). This is usually the favorite size of the vast majority of baristas.
With this pack you will get   100 Hario filters   made on white paper (we also have it available unbleached), so you will be sure that you will have enough filters of the best quality on the market.