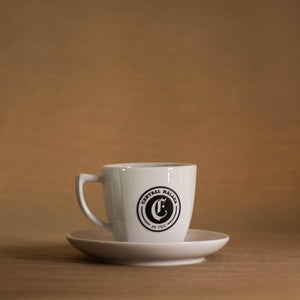 Large Central Porcelain Mug
Take home the bowl of Café Central, with the famous measurements of the painting on its side, from the solo, passing through the middle, the shadow and the cloud to the friendly "don't wear it".
Give away "Malaga" and make your house a "Central" and explain to your friends how to order coffee in Malaga.
This is a perfect cup to have a morning coffee or enjoy by a fire pit or fireplace on a Sunday afternoon.
Portuguese porcelain mug with high shock resistance, thermal capacity and durability. White color. Includes saucer with non-slip emptying.

Suitable for microwave use.
Freezer safe.
High resistance to peeling off the edges.
Suitable for industrial furnaces.
Non porosity certificate.
Thermal shock resistance.
Dishwasher safe using non-abrasive detergents.
Enameled central logo on the front and meter on the back.
Lead (Pb) and Cadmium (Cd) free according to FDA, ASTM and Proposition 65.